03.02.2017
Other United States
Rinnai America Sponsorship Agreement with Atlanta Motor Speedway
Rinnai America Corporation (President: Yuzo Yoshida), headquartered in Peachtree City, Georgia, is a consolidated subsidiary of Rinnai Corporation (President: Hiroyasu Naito), a comprehensive manufacturer of heat-energy appliances headquartered in Nagoya, Aichi Prefecture. Rinnai America recently signed a multi-year sponsorship agreement with Atlanta Motor Speedway, a racetrack near Rinnai America's headquarters, and acquired the right to name the NASCAR XFINITY Series race held at this racetrack.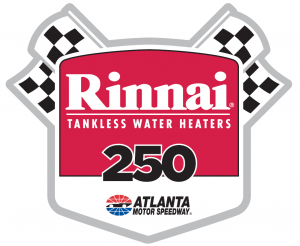 Rinnai 250 logo
The NASCAR XFINITY Series is a stock car race under the NASCAR (National Association for Stock Car Auto Racing) banner. The 2017 XFINITY Series, which takes place at Atlanta Motor Speedway, will run under a new name—Rinnai 250—with the green flag dropping at 1:30pm on March 4.
Rinnai America, a Rinnai subsidiary headquartered in Peachtree City, Georgia, was established in 1974 and sells tankless water heaters and FF-type gas room heaters throughout the United States. In the U.S. water heater market, storage-type systems are still mainstream, but sales of tankless water heaters have been moving in a favorable direction, fueled by heightened interest in energy-saving appliances as well as a federal tax credit for high-efficiency water heating equipment such as tankless water heating units. In 2016, Rinnai America achieved a marketing milestone—aggregate sales of tankless water heaters hit the two million mark.
Under the NASCAR XFINITY Series sponsorship agreement, Rinnai America is allowed to display the Rinnai logo at the racetrack. Even better, perhaps, is the potential to showcase products, as the company will be allowed to install Rinnai-made tankless water heaters for shower rooms inside a race-affiliated hospitality tent. Guests at the racetrack will be able to take a shower here and experience first-hand the advantages afforded by tankless water heaters.
Rinnai and Rinnai America will utilize the NASCAR XFINITY Series sponsorship to raise awareness of the Rinnai brand and promote greater use of high-energy-saving tankless water heaters.
Back